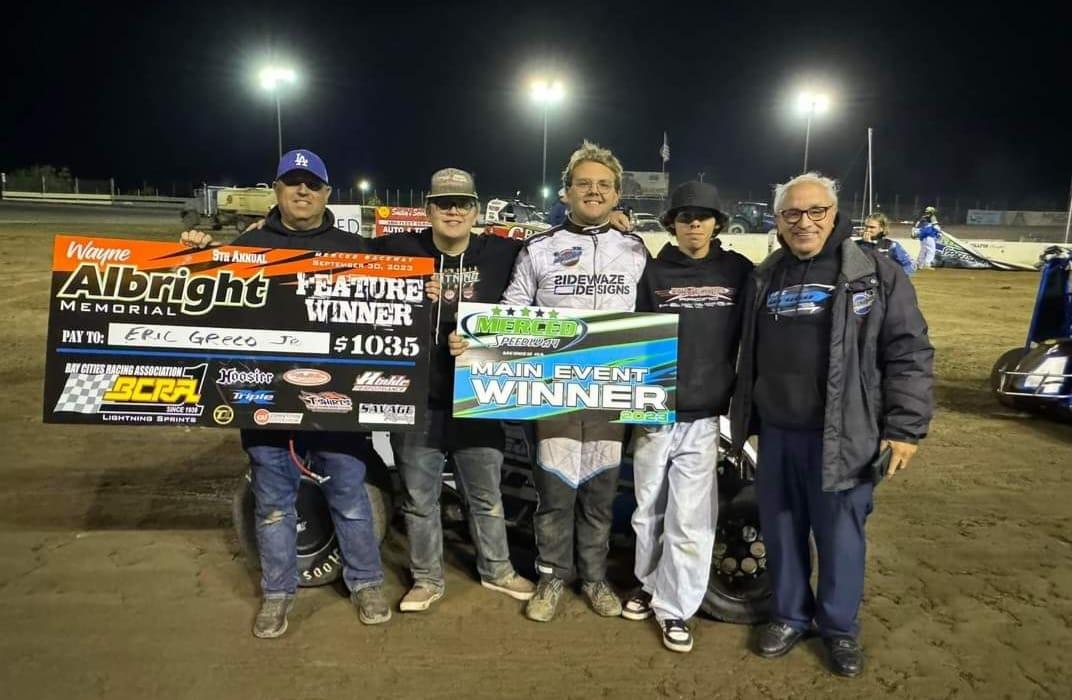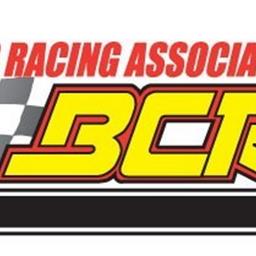 10/3/2023
Bay Cities Racing Association Lightning Sprints
---
Eric Greco Jr. races to victory at Wayne Albright Memorial in Merced
Eric Greco Jr. races to victory at Wayne Albright Memorial in Merced
By Gary Thomas
Merced, CA…Palmdale, California's Eric Greco Jr. utilized a late restart to make his move and went on to capture the $1,035 top prize during the annual Wayne Albright Memorial this past Saturday at Merced Speedway.
The 25-lap Bay Cities Racing Association Lightning Sprint vs CLS Civil War feature began with outside front row starter Aiden Lange of Lakewood jumping into the lead.
It didn't last long however, as San Diego's AJ Bender was able to carve his way under during a restart to grab the point on lap three. The quarter-mile bullring was prepared to perfection and allowed the Wingless Lightning Sprints to race on every square inch of the surface.
Waterford's Dakota Albright, racing in memory of his father, soon followed along in second while running the high scary side. A tremendous battle for the runner up spot was then seen before Albright hounded the leader.
Albright looked to find an opening up high, but Bender was smooth as silk running the bottom. With 17 laps complete Albright then hooked the cushion and fell over the edge, dropping him to fourth, which moved up BCRA President Greg Dennett and Eric Greco Jr.
The duo battled it out until Greco assumed the position and turned his attention to the leader. It was a methodical charge forward after being scored seventh on the opening lap. A late race caution set up the winning restart for Greco as he blasted to the topside and rocketed around Bender to take the lead with just four circuits remaining.
Greco accepted the checkered flag for victory over Bender, Dennett, Bobby Michnowicz and Lange in the top-five. The remainder of the top-10 was filled out by Albright, Scott Kinney, Seth Dyer, Jason Schostag and Leland Day.
When all was said and done Livermore's Greg Dennett was crowned as the BCRA VS CLS Civil War Series champion for the initial time.
Next up for the BCRA Lightning Sprints is a trip to Marysville Raceway for the annual Spooktacular on Saturday October 28th. The evening of competition also marks championship night for the series.
The Bay Cities Racing Association would like to thank Eslinger Engineering, Moto Wear, Hot Head Water Heaters, Extreme Mufflers, CSI Shocks, Hoosier Tires and West Evans Performance for their support this season.
For more info on BCRA please visit our official website at https://www.bcraracing.com/ and be sure to like the association on Facebook at https://www.facebook.com/BayCitiesRacingAssociation
……
Wayne Albright Memorial Results – Merced Speedway September 30th
A Feature 25 Laps
8G-Eric Greco Jr[5]; 2. 4-AJ Bender[1]; 3. 47-Greg Dennett[4]; 4. 21X-Bobby Michnowicz[9]; 5. 13X-Aiden Lange[2]; 6. 35JR-Dakota Albright[3]; 7. 9-Scott Kinney[6]; 8. 4X-Seth Dyer[7]; 9. 22-Jason Schostag[14]; 10. 97-Leland Day[11]; 11. 26W-Colton Ledbetter[10]; 12. 17F-Cody Meyer[8]; 13. 62-Steve Ledbetter[13]; 14. (DNS) 3F-Chris Crowder
Heat 1 8 Laps
35JR-Dakota Albright[2]; 2. 4-AJ Bender[6]; 3. 9-Scott Kinney[4]; 4. 17F-Cody Meyer[3]; 5. 97-Leland Day[1]; 6. 26W-Colton Ledbetter[7]; 7. (DNF) 3F-Chris Crowder[5]; 8. (DNF) 62-Steve Ledbetter[8]
Heat 2 8 Laps
13X-Aiden Lange[4]; 2. 8G-Eric Greco Jr[2]; 3. 47-Greg Dennett[6]; 4. 21X-Bobby Michnowicz[3]; 5. (DNF) 4X-Seth Dyer[7]; 6. (DNF) 22-Jason Schostag[1]; 7. (DNF) 91-Matt Land[5]
Qualifying
4-AJ Bender, 00:12.947[8]; 2. 47-Greg Dennett, 00:13.007[12]; 3. 3F-Chris Crowder, 00:13.049[1]; 4. 91-Matt Land, 00:13.117[3]; 5. 9-Scott Kinney, 00:13.191[5]; 6. 13X-Aiden Lange, 00:13.209[11]; 7. 17F-Cody Meyer, 00:13.245[4]; 8. 21X-Bobby Michnowicz, 00:13.434[9]; 9. 35JR-Dakota Albright, 00:13.437[15]; 10. 8G-Eric Greco Jr, 00:13.493[6]; 11. 97-Leland Day, 00:13.511[16]; 12. 22-Jason Schostag, 00:13.943[10]; 13. 26W-Colton Ledbetter, 00:14.526[7]; 14. 4X-Seth Dyer, 00:14.647[2]; 15. 62-Steve Ledbetter, 00:14.647[14]; 16. (DNS) 57-Connor Spier, 00:14.647
---
Article Credit: Gary Thomas
Submitted By: Gary Thomas
Back to News