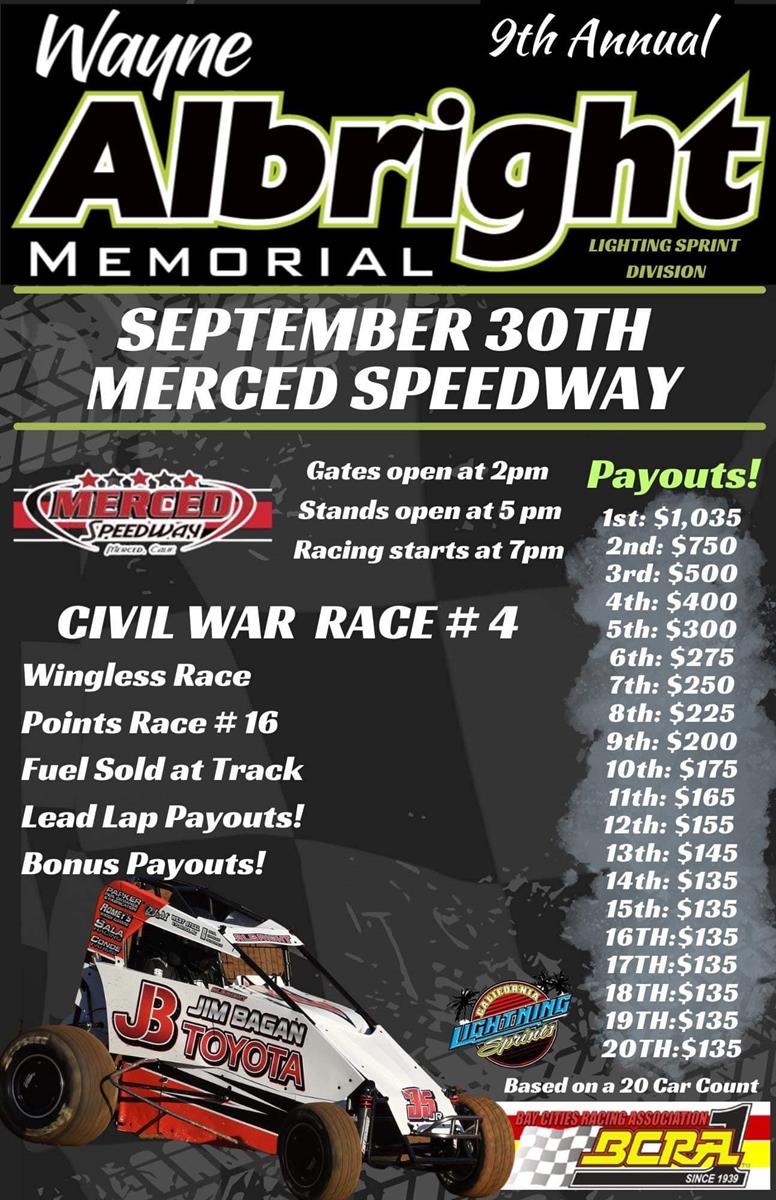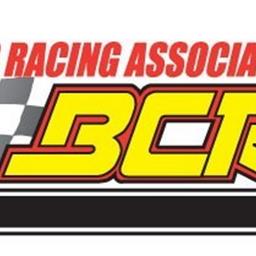 9/25/2023
Bay Cities Racing Association Lightning Sprints
---
Wayne Albright Memorial invades Merced Speedway this Saturday
The Bay Cities Racing Association Lightning Sprints are ready to contest one of their most anticipated events of the season this Saturday, with the annual Wayne Albright Memorial taking place at Merced Speedway.
The $1,035-to-win/ $135-to-start show will be held as a Non-Wing race and marks the final BCRA/ CLS Civil War outing of the season. All 25 laps in the main event feature lap money and several bonuses are set to be handed out during the evening.
Extra money is on the line for the fastest car in hot laps and qualifying, heat race winners and hard charger in the feature. A $200 hard luck award will also be up for grabs at the event.
"I really want to thank all the gracious sponsors that stepped up to support this event in memory of my father," commented Dakota Albright. "We're excited for Merced Speedway on Saturday and doing it without the wings is exactly what my dad would have wanted. Hopefully we'll see a lot of teams and fans this weekend."
Dakota Albright, a parts salesman for Peterbuilt in Turlock, lost his dad during a 2014 dream trip to Oklahoma's Chili Bowl Midget Nationals.
Wayne Albright had contracted H1N1 Flu, and was being driven back to California when he passed away in New Mexico. His son continued racing with the help of friend Marshall Sexton of Ceres and Uncle Jim Reep of Oakdale.
"Racing was always a father-son thing. Doing it without dad would be tough, but my family encouraged me to go on. We won the first race we entered after dad's passing," said Dakota Albright, who has gone on to become a champion racer. "I took that as a good sign - to keep on racing."
Going into Saturday night at Merced Speedway Albright sits atop the BCRA Lightning Sprint standings by 74-points over Greg Dennett. Albright has put together a fantastic campaign with five victories and top-five finishes in all but one event. Dennett has also earned three wins in his own right, along with 11 top-five efforts.
Cody Meyer, Scott Kinney and Hunter Kinney complete the top-five going into this weekend. Rounding out the top-10 are last year's champ Matt Land, leading rookie Jason Schostag, Chris Crowder, Bradley Schmidt and Josef Ferolito.
Tickets can be purchased at the gate this Saturday September 30th.
The Merced Speedway is located at 900 Martin Luther King Jr. Way, Merced, California 95431. It is approximately one hour and 45 minutes south of Sacramento and one hour north of Fresno. For information on the speedway visit http://www.mercedspeedway.net/
The Bay Cities Racing Association would like to thank Eslinger Engineering, Moto Wear, Hot Head Water Heaters, Extreme Mufflers, CSI Shocks, Hoosier Tires and West Evans Performance for their support this season.
For more info on BCRA please visit our official website at https://www.bcraracing.com/ and be sure to like the association on Facebook at https://www.facebook.com/BayCitiesRacingAssociation
……
Former winners of the Wayne Albright Memorial
2014- Bobby Michnowicz
2015- Bobby Michnowicz
2016- Craig Dillard
2017- Charlie Caricillo
2018- Bobby Michnowicz
2019- Dakota Albright
2021- James Turnbull
2022- David Gasper
---
Article Credit: Gary Thomas
Submitted By: Gary Thomas
Back to News