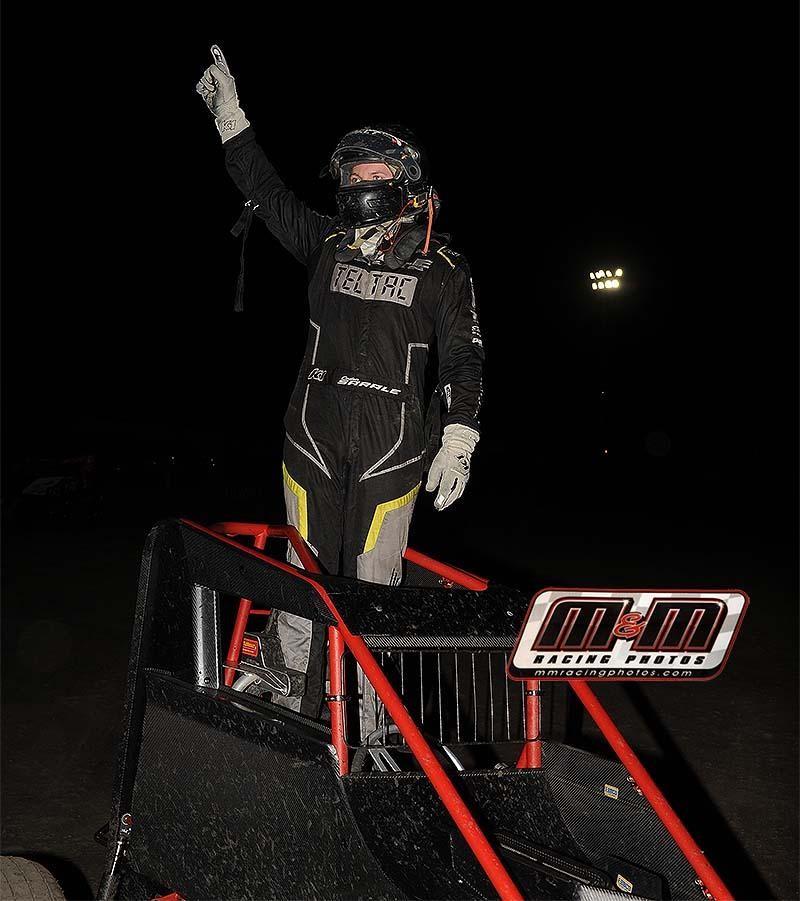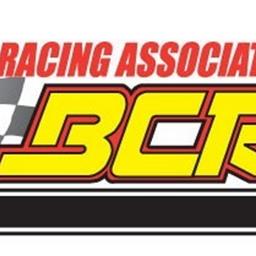 8/30/2023
BCRA - Bay Cities Racing Association
---
CADEN SARALE Scores BCRA Midget Triumph in Salute to Doug Bock at Antioch Speedway in Round 2 of Triple Crown Series
Stockton's Caden Sarale held off David Gasper of Santa Barbara to take home the $2,626 winner's laurels in 30-lap Salute to Doug Bock on August 26 at Antioch Speedway. It was Round 2 of the Bay Cities Racing Association Midget Triple Crown series.
19-year-old Sarale chauffeured the Graunstadt Enterprises/Matt Streeter Racing #14j to the win by two tenths of a second over 18-year-old David Gasper in the #73 Josh Ford Motorsports Triple X / One Way Chevy.
Gasper surged through the field from his 15th starting position, maneuvering into the Top 5 on Lap 15. Gasper then moved into 4th on lap 17 and 3rd on lap 18, finally taking second on Lap 20. From there, Gasper pulled from a second back of Sarale to come within two tenths at the checkers. Sarale led the entire 30-lap race.
19-year-old Nikko Panella of Stockton claimed a podium, wheeling to third in the Sarale Farms #32 Tel-Tac CS9/Stanton SR-11x.
Two-time reigning Western Midget Racing (WMR) champion and all-time winningest WMR driver Blake Bower of Brentwood claimed fourth in the Boscacci Racing #9 Spike/EcoTec with 16-year-old teammate Bryant Bell of Oakley claiming fifth in the Boscacci Racing #09 Toyota Walnut Creek-Sabrina's Pizzeria-Griggs Systems-Home Smiles Spike/EcoTec. During a Lap 2 red, Bell retarted 12th after suffering a damaged rear suspension arm that the Boscacci Racing team repaired under the caution.
Oakdale's Danika Jo Faccinto claimed sixth in her #13 Spike/Sala Racing Chevy followed by Kelseyville's Michael Snider in Lauren Snider's #6k Spike/Essllinger, San Jose's Anthony Bruno in the Haugh Motorsports #54 Spike/EcoTec, followed by Madera's Marvin Mitchell in his #78 Spike/Deppe and 9-time BCRA champion Floyd Alvis of San Carlos in his #18 Stealth/Chevy rounding out the Top 10.
Ben Worth of Coalinga, the evening's fast qualifier and Heat 1 winner halted to a stop prematurely on Lap 18 while running second in the Matt Streeter Racing #14JR Spike/Chevy with a battery issue.
Folsom's Jerry Kobza and Elk Grove's Blaine Craft brought out red flags during the feature. Kobza's #3 Spike/EcoTec sustained moderate damage during a Lap 2 incident, while Craft's #35 Spike/EcoTec suffered severe damage after flipping over the Turn 1 & 2 fencing on Lap 19.
Pole sitter Jake Morgan of Fair Oaks failed to start the feature in his #19w Spike/Chevy.
Worth, Sarale and Bower claimed the 8-lap heat races.
Worth was the fast qualifier with a lap of 14.298 and would earn the 100.00 bonus from Roza Motorsports / friends of BCRA.
Sarale, who claimed second in Round 1 of the Triple Crown series in April takes the Triple Crown points lead by 23 tallies over Bower and Bell followed by Snider at 33 back and Faccinto 34 markers back.
The Triple Crown series concludes on September 23. A $500 bonus will go to the high points earner of the three-race series.
The race was Salute to Doug Bock, honoring BCRA Hall of Famer and longtime Midget owner Doug Bock. Bock has been a BCRA Midget car owner for over 20 years with dozens of wins and several championships to his name, with drivers including Glenn Carson, Shane Golobic, John Sarale, Justin Grant, Thomas "T-Mez" Meseraull and a plethora of others.
The Triple Crown series is presented by Arata Bros. Racing, Hothead Engine Heaters, Extreme Mufflers, D&P Pools, Esslinger Engineering, West Evans Motorsports, Bock's Equipment Repair & Fabrication, S&K Automotive and Front Row Vineyards.
The Bay Cities Racing Association is one of the oldest Midget auto racing sanctions in the County with a storied 80-year history of auto racing in the Western U.S.
For more info on BCRA, visit https://www.bcraracing.com/ and like the organization on Facebook at https://www.facebook.com/BayCitiesRacingAssociation
SUMMARY:
FEATURE 30 Laps (start position): 1. Sarale (3), 2. Gasper (15), 3. Panella (7), 4. Bower (5), 5. Bell (6), 6. Faccinto (2), 7. Snider (9), 8. Bruno (8), 9. Mitchell (17), 10. Alvis (18), 11. Britton Bock (16) 67, Bock Spike/Esslinger, 12. Craft (14), 13. Nick Foster, Jr. (11) 6s Cameron Beard, 14. Worth (4), 15. Greg Dennett (13) 8, Spike/EcoTec, 16. Dave Stoltz (18) Stoltz 77 Pacific Flyer/V6, 17. Kobza (10), 18. Morgan (DNS).
HEAT 1 - 8 Laps: 1. Worth (6), 2. Morgan (5), 3. Snider (3), 4. Kobza (2), 5. Craft (1), 6. Bock (4)
HEAT 2 - 8 laps: 1. Sarale (6), 2. Bell (4), 3. Panella (5), 4. Foster (2), 5. Dennett (3), 6. Mitchell (1)
Heat 3 - 8 laps: 1. Bower (2), 2. Faccinto (5), 3. Bruno (3), 4. Alvis (1), 5. Stoltz (6), 6. Gasper (4)
QUALIFICATIONS: 1. Worth, 14.298; 2. Sarale, 14.312; 3. Faccinto, 14.620; 4. Morgan, 14.664; 5. Panella, 14.725; 6. Gasper, 14.811; 7. Bock, 14.980; 8. Bell, 15.061; 9. Bruno, 15.286; 10. Snider, 15.339; 11. Dennett, 15.516; 12. Bower, 15.537; 13. Kobza, 15.580; 14. Foster, 15.664; 15. Alvis, 15.729; 16. Craft, 15.910; 17. Mitchell, 16.769; 18. Stoltz, NT.
---
Article Credit: Robert Haugh
Submitted By: Dakota Albright
Article Media
Back to News