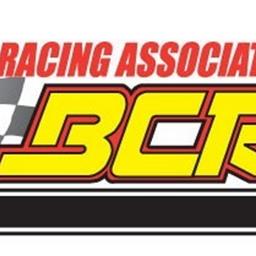 8/23/2023
BCRA - Bay Cities Racing Association
---
BCRA Mighty Midgets Return to Antioch Speedway 8/26 for the Second Round of Triple Crown — for Salute to Doug Bock Night
The fabled Bay Cities Racing Association Midgets return to the quarter-mile Antioch Speedway this Saturday, August 26 for round two of the Triple Crown series.
This weekend's event is dubbed Salute to Doug Bock night with the event paying $2,626.00 to the Midget winner in honor of BCRA Hall of Famer and longtime Midget owner Doug Bock.
Doug Bock has been BCRA Midget car owner for over 20 years with dozens of wins and several championships to his name, many donning his No. 26 with drivers such as Glenn Carson, Shane Golobic, John Sarale, Justin Grant, Thomas "T-Mez" Meseraull and a plethora of others.
This weekend's event is expected to attract a field of over 20 Mighty Midgets, all vying for the winner's laurels.
Leading the entries will be Castro Valley's Jake Andreotti, who kicked-off the Triple Crown Series with a $2,000 victory and clean sweep in April aboard Pete Davis' #00 Hothead Engine Heaters Spike/Esslinger. Andreotti took the hard-fought win over Stockton's Caden Sarale in the Sarale Racing #32 Spike/Mopar, Brentwood's Blake Bower in the Boscacci Racing #9 Spike/EcoTec, Fair Oaks' Jake Morgan in the #19w Spike/Chevy and Oakley's Bryant Bell rounding out the Top Five in the Boscacci Racing #09 Spike/EcoTec.
Kelseyville's Michael Snider, French Camp's Sage Bordenave, Santa Cruz's Logan Mitchell, Oakdale's Danika Jo Faccinto and Kevin Box completed the Top 10 in Round one.
Andreotti has been competing in the USAC National Midget series, but with a break in action, returns to his home track to defend his April triumph.
Among some of those expected to compete this Saturday 8/26 will be April's second-place finisher Sarale, Ben Worth of Coalinga, Boscacci Racing teammates Bower and Bell, Calistoga's Britton Bock in his #67 Spike/Esslinger, Morgan, Faccinto in her #13 Spike/Esslinger, Livermore's Greg Dennett, Oakley's Jacob Tuttle, Folsom's Jerry Kobza, San Jose's Anthony Bruno in the Haugh Motorsports #54 Spike/EcoTec, 8-time BCRA champion Floyd Alvis of San Carlos in his #18 Stealth, Kelseyville's Anthony Esberg, Auburn's Dave Stoltz in his #77 Pacific Flyer/V6, Kelseyville's Thomas Esberg, Michael Snider, Madera's Marvin Mitchell in his #78 Spike, Chatsworth's Ron Hazelton in his #15 and Peter Paulson.
Andreotti holds an 11-point lead in the Triple Crown series over Morgan, with Sarale 12 tallies back and Boscacci Racing teammates Bower and Bell each 19 markers behind, tied for fourth.
The Triple Crown series is presented by Arata Bros. racing, Hothead Engine Heaters, Extreme Mufflers, D&P Pools, Esslinger Engineering, West Evans Motorsports, Bock's Equipment Repair & Fabrication, S&K Automotive and Front Row Vineyards.
Additional awards include a $100 hardcharger gift card award sponsored by Extreme Mufflers, $100 long haul award sponsored by HotHead Engine heaters and a $100 fast time award sponsored by Roza Motorsports. A $500 bonus will go to the high points earner of the three-race series.
The Mighty Midgets will be joined by the BCRA Lightning Sprints, BCRA Vintage Midgets, Delta Dwarf Cars, Hobby Stocks, Hardtops and West Coast Sport Compacts.
The Bay Cities Racing Association is one of the oldest Midget auto racing sanctions in the County with a storied 80-year history of auto racing in the Western U.S.
The Triple Crown series will conclude on September 23.
For more info on BCRA, visit https://www.bcraracing.com/ and like the organization on Facebook at https://www.facebook.com/BayCitiesRacingAssociation
---
Article Credit: Robert Haugh
Submitted By: Dakota Albright
Back to News