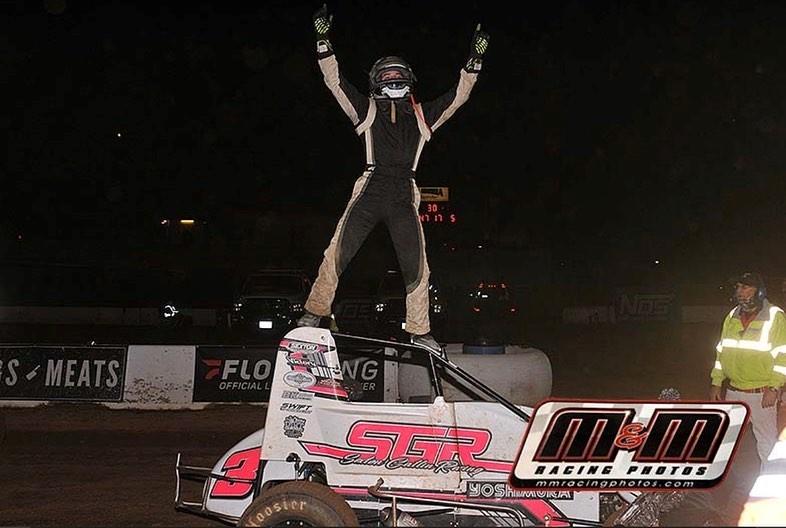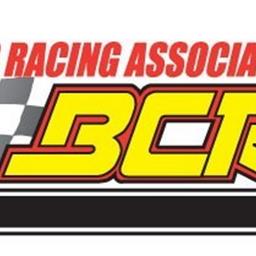 11/28/2022
Bay Cities Racing Association Lightning Sprints
---
GRANT SEXTON RIM RIDES TO THRILLING MAIN EVENT WIN IN HANGTOWN 100 FINALE AT PLACERVILLE
(Torrance, CA, November 25, 2022) Teenage racer Grant Sexton closed the California Lightning Sprint Car Series 2022 season the same way he began it eight months earlier when he rim-rode his way to a thrilling victory in the finale of the "Hangtown 100" at the Placerville Speedway. The win in the race that was co-sanctioned by Northern California's BCRA, gave Sexton Gatlin Racing a clean sweep of the event as Sexton's teammate, AJ Bender, captured the first two nights.
Orangevale's Harlee Aguilera was on the pole for the final lightning sprint car race in California in 2022. Bender, a veteran driver who resides in San Diego was on the outside of the front row. Row two was made-up of BCRA president Greg Dennett of Fremont and Warner Springs teen "Shugah" Shane Sexton. Grant Saxton, who lives in Lakeside, and Lakewood, Colorado's Johnny Boos were in row three.
The 30-lap main on the picturesque 57-year-old track kicked off with track announcer Gary Thomas' familiar refrain, "It Is About To Go Down In Old Hangtown." Aguilera was the first driver to reach turn one with Bender and Dennett right behind. Bender swept by Aguilera coming out of turn three on lap one to take over the lead. The race did not stay green for long as Placerville local Shane Hopkins rolled to a stop in turn one on the second lap bringing out the first yellow flag of the race.
Once the race got going again, Boos advanced his standing by one position would he took Aguilera for third. However, the green light did not stay on for long. Going into turn 3 on the 4th circuit Waterford's Dakota Albright clipped the inside berm and flipped. That knocked the 2021 BCRA champion out of the race early, on what for him was a see-saw weekend. At the Thursday opener, he exited the race early with a blown tire. Twenty-four hours later, he raced to an impressive second-place finish. He wrapped it up with the frustrating flip that knocked him out of the race.
Albright was not the only casualty in the red flag incident. Behind his flipping car Brent Sexton, the 2022 POWRi Southwest Lightning Sprint Car champion, was clobbered by another car as they swept wide to avoid Albright's tumbling racer. The damage ended Sexton's race at that point.
The race resumed with Bender still in his familiar first-place position. He was being chased by Boos, Aguilera, Dennett, and 2021 "Hangtown 100" champion Logan Seavey of Sutter, California. Chris Crowder of Colorado Springs, Colorado, who won night two at Hangtown in 2021, relieved Seavey of fifth on lap four. Soon thereafter, the yellow reared its frustrating, ugly head again when Shane Sexton and 2022 BCRA champion Matt Land ended their race by mixing it up in turn one.
The third restart, which came on lap 6, still found Bender in command. Boos, was still second with Dennett, and Aguilera third and fourth. At that time, Grant Sexton, who started fifth but who was shuffled backward in lap one traffic chaos, was starting to make his presence felt as he was up to eighth. Hard-driving Boos began stalking Bender for the lead and his dogging paid off at the end of the eighth go-round when he shot into the top spot. Trying to score the hat trick for the week Bender immediately went on the attack of the pacesetter. If those two battling for the lead were not enough, Dennett, who was rolling the bottom like a boss, came calling and was just inches behind the lead duo. Bender ran it hard on the inside in one in two on lap 10 and nearly snatched the lead back. One lap later he did the same and pulled next to Boos. As they came off turn two inches apart, Boos ran out of racetrack and slipped over the cushion. That not only allowed Bender to get by, but Dennett passed the black #24 as well.
One lap later Dennett turned the heat up on Bender and tried to pry the lead from his grasp. Bender was equal to the challenge and maintained his lofty position on top of the heap. However, behind them, Grant Sexton was getting a lot of attention from the fans with some daring rim riding. The affable teenager was up to third and was yearning for more. Dennett again tried to wrestle the lead away in one and two on the 13th orbit. Bender fought him off and decided enough is enough. One lap later when they hit turn one, Bender changed lines and dropped to the bottom in front of Dennett. While he continued to hold the top spot, Grant Sexton eyed the open lane on the top and continued to close in on the leaders.
While he was only in third place, Grant Sexton's brave run on the outside was warming up the fans on the chilly night. His attack on the cushion was relentless and he caught a good chunk of it in the middle of three and four on lap 18. The jolt straightened his eye-catching #3 out and shot him to the bottom and to the inside of Dennett. Dennett was not by any means handing the keys to second over to his teen challenger and they traded the spot back and forth before the youngster took full claim of it.
The green flag remained on until there was ten laps to go when Dalton Sexton spun and turn four forcing another painful yellow. This time the makeup of the top four had Bender in the lead, Sexton in the second-place spot, Dennett in third, and Aguilera in fourth. The field took the green flag and got one lap in before Boos stopped in turn one after making contact with the back of Aguilera. However, seconds prior to that when the field completed the last lap, Sexton had inched by for the lead and would be at the head of the pack for the final restart of the race.
Teammates or not, Bender was not going to let Sexton off the hook. For three straight laps, he threw big-time haymakers at his teammate on the first bend. He nearly took the lead each time, but Sexton was just a tad faster and maintained his advantage. On lap 25, Bender kept it on the top and Sexton began to pull away. Dennett kept up his pesky persistence when he tried to relegate Bender back to third but the "San Diegan" managed to hold him off.
It looked like the race was over as Sexton had nearly a full second lead, but with two circuits left, tenacious Bender came calling again. He threw massive sliders at Sexton in turn two on laps 29 and 30, but each time the teen repelled the threats. Sexton raced under the last CLS checkered flag of the season just as he had done eight months earlier, with a rim-riding win. It was only his second CLS triumph of the year. Bender took second with Dennett glued to his tail in third. Aguilera and Bellingham, Washington's Alex Lewis placed fourth and fifth.
"Everyone was around the bottom and I knew I wasn't going to get them by following," Sexton told the appreciative crowd. "Guess my balls were feeling a little swollen tonight because we were rippin' the top. Honestly, trying to earn myself a midget ride out here and prove I am a driver. I couldn't have done it without Seth (crew chief Seth Kramer), and everyone working on my cars, my dad, and my Nana. AJ, he's taught me so much about racing with him. I hate to take his sweep away, but man, that felt good. I am always trying to beat that guy."
"I think we missed the set up a little bit," second-place finisher Bender told interviewer Drake York and the fans. "I wasn't expecting it to be this dry so I made some last-minute choices. I think they were a little off. Grant railed around me and I was like, 'dang I gotta get up there and start doing it.' I am glad Grant got it, and SGR is one and two and we get some more trophies to add."
"Fifteen years ago I ran midgets here and I knew the bottom is good," third-place driver Dennett said afterward. "I just tried to be super smooth on the bottom and just kind of run my race. These guys are way better than me and I was just excited to be up front racing with them. We raced super clean and it was just awesome to be here and to run up front."
There were two qualifiers earlier in the night to determine the starting lineup. Boos and main event winner Grant Sexton claimed those. Washington's Alex Lewis won the B main.
Other CLS and Southern California drivers in the finale were Jeff Dyer (7th), Cal Smith (9th), Dalton Sexton (12th), and Brent Sexton 20th.
Work is underway on the 29th CLS series schedule. Information will be released as soon as possible.
The 2022 CLS banquet will take place at Frantone's Pizza & Spaghetti Villa in Cerritos on February 4th. Tickets for the banquet are $40.00. To order or for more information call (310) 367-9050 or email jon.robertson@sbcglobal.net ?subject=jon.robertson@sbcglobal.net.
November 19 Hangtown 100 Results
Hangtown 100 Night #3 25-Lap Main Event (with starting spots and distances back):
Grant Sexton, Lakeside, CA, 5th
AJ Bender, San Diego, CA, 2nd … 1.385
Greg Dennett, Fremont, CA, 3rd, … 1.576
Harlee Aguilera, Orangevale, CA, 1st … 2.553
Alex Lewis, Bellingham, WA, 11th …
Hunter Kinney, Citrus Heights, CA, 21st … 2.966
Jeff Dyer, Yucca Valley, CA, 20th … 5.264
Logan Seavey, Sutter, CA, 10th … 6.892
Cal Smith, Phelan, CA, 14th … 7.600
Steve Becker, Lakewood, CA, 12th … 8.182
Josef Ferolito, Modesto, CA, 16th … 9.232
Dalton Sexton, Lakeside. CA, 15th … 10.742
Jason Schapansky, Kamloops, BC, Canada, 18th … 12.313
Johnny Boos, Lakewood, CO, 6th … 12.787
Chris Crowder, Colorado Springs, CO, 9th … 1 Lap
Shane Hopkins, Placerville, CA, 13th … 20 Laps
Matt Land, Elk Grove, CA, 17th … 24 Laps
Shane Sexton, El Cajon, CA, 4th … 24 Laps
Dakota Albright, Waterford, CA, 7th … 28 Laps
Brent Sexton, Lakeside, CA, 8th … 28 Laps
Danielle Clauson-Sevo, Placerville, CA, 19th … 28 Laps
B Main (15 Laps): 1. Alex Lewis; 2. Steve Becker; 3. Shane Hopkins; 4. Cal Smith; 5. Dalton Saxton; 6. Josef Ferolito; 7. Matt Land; 8. Jason Schapansky; 9. Danielle Clauson-Sevo; 10. Jeff Dyer; 11. Mark Henry; 12. Hunter Kinney
Qualifier 1 (12 Laps): 1. Johnny Boos; 2. Shane Sexton; 3. AJ Bender;4. Dakota Albright; 5. Chris Crowder; 6. Steve Becker; 7. Ken Coulsten Jr; 8. Hunter Kinney; 9. Matt land; 10. Dalton Sexton
Qualifier 2 (12 Laps): 1. Grant Sexton; 2. Greg Dennett; 3. Harlee Aguilera; 4. Brent Sexton; 5. Logan Seavey; 6. Alex Lewis; 7. Jeff Dyer; 8. Shane Hopkins; 9. Cal Smith; 10. Mark Henry
---
Article Credit: Scott Daloisio
Submitted By: Dakota Albright
Back to News