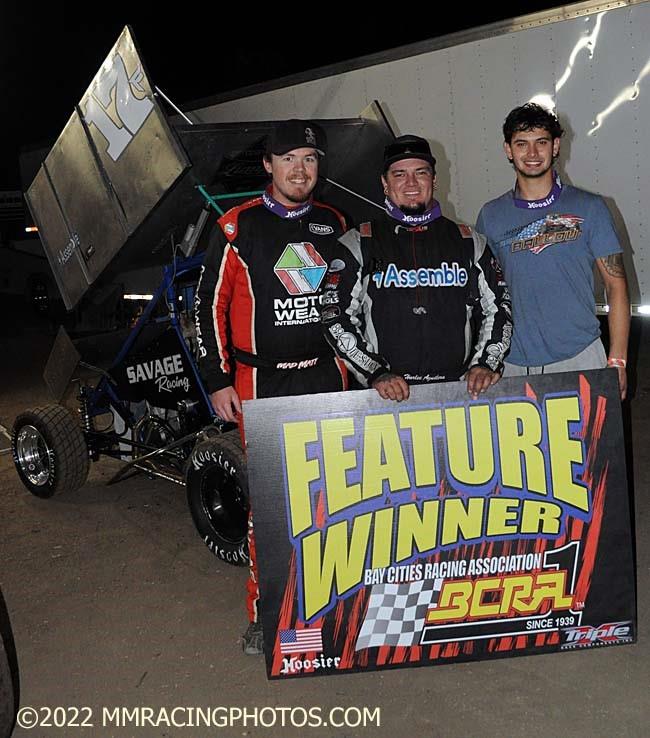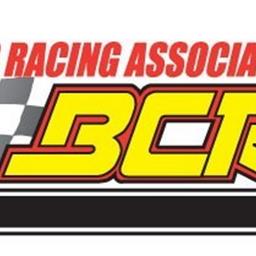 10/31/2022
Bay Cities Racing Association Lightning Sprints
---
Aguilera Wins BCRA Lightning Sprint Main Event at Marysville
Marysville, CA......Longtime BCRA Lightning Sprint driver Harlee Aguilera won the 20 lap Bay Cities Racing Association Lightning Sprint main event at Marysville Raceway that was part of the tracks annual "Spooktacular" and Paul Hawes Memorial Saturday night. Aguilera dominated the A-Main leading every lap from his pole position starting spot racing on the well-prepared clay oval.
Aguilera took off from his front row spot at the start of the 20 lap main event with current BCRA Lightning Sprint points leader Matt Land running a close second. Josef Ferolito raced third and Brandon Leedy fourth in the early going. Longtime BCRA supporter Rick Holbrook had mechanical trouble and had to pull off the track causing an early caution flag. Land tried to challenge Aguilera in turns one and two when racing resumed but Aguilera sped off running what seemed to be qualifying lap speeds on the fast track. Racing came to a halt on lap 7 when Cody Shermantine bicycled and almost flipped his machine out of the park in turn two. Thankfully, all safety devices and track fencing did its job and Shermantine escaped uninjured. The car on the other hand didn't fare as well. When racing resumed Aguilera continued his lead pulling out little by little as the laps counted down. Third running Ferolito caught second running Land and tried a pass, almost touched wheels and thought better of it and settled back in on the rear nerf bar of Land. Fifth running Greg Dennett passed fourth running Brandon Leedy near or a little after halfway point and pulled away in pursuit of Ferolito. In the closing laps Aguilera pulled out to comfortable lead to win it well. Land finished a solid second with Ferolito rounding out the top three. Dennett finished fourth and Leedy fifth. Shermantine and Holbrook did not finish the main event.
Ferolito dominated the lone eight lap heat race over Leedy, Land, Dennett, Aguilera and Holbrook. Dennett set fast time with a lap of 13.763 in qualifying. Former Champions Hunter Kinney and "The Bandit" Scott Kinney both blew their engines, Hunter in the heat race and Scott in hot laps/qualifying ending their nights early. Land continues to lead the points championship heading into the final points race at Bakersfield which is also the final co-sanctioned BCRA/CLS "Civil War" Series race on November 15.
10-29-22 Marysville Raceway - BCRA Lightning Sprint
SUMMARY:
A Feature 1 (20 Laps): 1. 17F-Harlee Aguilera[1]; 2. 91-Matt Land[2]; 3. 18-Josef Ferolito[3]; 4. 47-Greg Dennett[5]; 5. 3F-Brandon Leedy[4]; 6. (DNF) 46S-Cody Shermantine[7]; 7. (DNF) 5-Rick Holbrook[6]
Heat 1 (8 Laps): 1. 18-Josef Ferolito[1]; 2. 3F-Brandon Leedy[4]; 3. 91-Matt Land[3]; 4. 47-Greg Dennett[5]; 5. 17F-Harlee Aguilera[8]; 6. 5-Rick Holbrook[6]; 7. (DNF) 46S-Cody Shermantine[7]; 8. (DNF) 25K-Hunter Kinney[2]
Qualifying 1: 1. 47-Greg Dennett, 00:13.763[1]; 2. 3F-Brandon Leedy, 00:13.767[7]; 3. 91-Matt Land, 00:13.817[4]; 4. 25K-Hunter Kinney, 00:14.268[3]; 5. 17F-Harlee Aguilera, 00:14.295[5]; 6. 18-Josef Ferolito, 00:14.390[2]; 7. 9-Scott Kinney, 00:14.494[8]; 8. 5-Rick Holbrook, 00:14.926[6]; 9. (DNS) 46S-Cody Shermantine
---
Article Credit: Mark Sublett
Submitted By: Dakota Albright
Article Media
Back to News