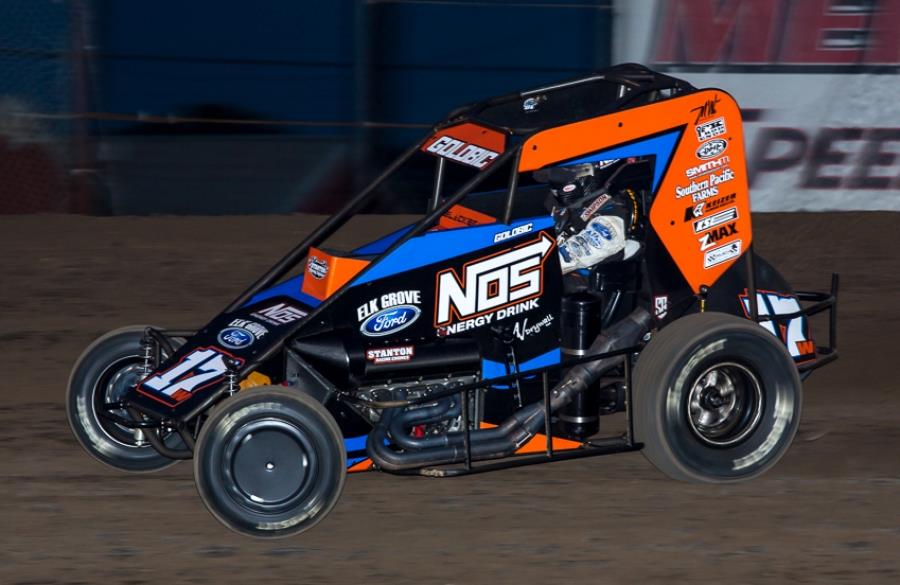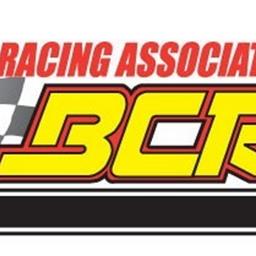 4/28/2022
BCRA - Bay Cities Racing Association
---
SHANE GOLOBIC SWEEPS MERCED ELK GROVE FORD RACE
MERCED, CA – APRIL 27, 2022… After early leader Ryan Bernal retired, "Sugar" Shane Golobic (Fremont, California) outdueled Ben Worth for the top spot and raced to victory last Saturday night at Merced Speedway. Racing Matt Wood's #17W NOS Energy Drink / Elk Grove Ford Spike, Golobic claimed his seventh career USAC Western States Midget triumph after starting sixth. Michael Faccinto, Worth, point leader A.J. Bender, and Dawson Faria rounded out the top-five drivers in the second round of the BCRA co-sanctioned Elk Grove Mini-Series.
When the checkered flags waved at the Merced County Fairgrounds, Golobic had swept the fourth point race. The versatile driver earned his second Woodland Auto Display Fast Time Award of the year by posting a time of 12.390 over the 19-car roster. Then, Shane topped night's 10-lap Jordan Hanni Well Drilling Heat Race #1 and now heads to Placerville ranked tenth in the standings and took over the lead in the Elk Grove Ford Mini-Series.
2018 Champion, Michael Faccinto (Hanford, California) won Merced's 10-lap Ammonia Refrigeration Service Heat Race #2. Driving the Graunstadt Enterprises' #14J T&T Trucking / Gary Silva Ranches Spike, Faccinto qualified second overall and charged to second in the feature after starting fifth. Michael sits third in standings and has climbed to second in the Elk Grove Ford points.
Veteran driver, Michael Snider (Kelseyville, California) raced to victory in the 10-lap Wireless 101 Heat Race #3. Piloting the family owned #6K S&K Automotive / T&A Automotive Eagle, Snider was fifteenth quick in time trials and scored sixteenth in the feature after an early exit. Michael left Merced ranks eighth in the point chase and eleventh in the mini-series.
Caden Sarale (Stockton, California) earned the night's Rod End Supply Hard Charger Award with a sixth place run from fourteenth. Driving the family owned #32 Tel-Tac / Sarale Trucking CS9, Sarale qualified thirteenth overall and ran second to Shane Golobic in his heat race. In limited starts, the rookie contender is fifteenth in series points and has climbed to eighth in the Elk Grove Ford standings.
Austin Liggett (Linden, California) returned to USAC Western States action and earned the Wilwood Disc Brakes "Lucky 13 Award." Racing the family owned #83 Excel Environmental / Liggett Trucking Spike, Liggett was fourth fast in time trials, placed third in his heat race, and was running in the top-five in the feature, before mechanical issues resulted in a thirteenth place finish. The former USAC West Coast 360 Sprint Car Champion sits fourteenth in the standings and sixth in the mini-series point chase.
The "mighty midgets" of the USAC Western States and Bay Cities Racing Association (BCRA) will return to action on Saturday, May 7th, at Placerville Speedway in Placerville, California. The "Mother's Day Madness" will be the third round of the Elk Grove Ford Mini-Series.
The USAC Western States Midget Series thanks Ammonia Refrigeration Service, AMSOIL, Competition Suspension Incorporated, Elk Grove Ford, Extreme Mufflers, FloRacing.com, Jordan Hanni Well Drilling, Hoosier Racing Tire, Rod End Supply, Vahlco Wheels, Wilwood Disc Brakes, and Woodland Auto Display for their support.
For more information on the series, visit usacracing.com and the social media for USAC Racing. You can also find exclusive content on the USAC Western States Midget Facebook, Twitter, and Instagram pages.
USAC WESTERN STATES MIDGET SERIES RACE RESULTS: April 23, 2022 – Merced Speedway – Merced, California – "Elk Grove Ford Mini Series Round #2" – Co-Sanctioned with BCRA
WOODLAND AUTO DISPLAY QUALIFICATIONS: 1. Shane Golobic, 17W, Wood-12.390; 2. Michael Faccinto, 14J, Graunstadt-12.791; 3. Blake Bower, 9, Boscacci-12.813; 4. Austin Liggett, 83, Liggett-12.858; 5. Ryan Bernal, 73X, Ford-12.894; 6. Ben Worth, 5K, Alexander-12.941; 7. Jake Hodges, 4, Hodges-12.981; 8. Dawson Faria, 14JR, Streeter-13.098; 9. A.J. Bender, 1X, LKK-13.099; 10. Travis Buckley, 7NZ, Buckley-13.178; 11. Terry Nichols, 1P, Nichols/Peckfelder-13.220; 12. Jake Andreotti, 00, Davis-13.248; 13. Caden Sarale, 32, Sarale-13.281; 14. Brody Fuson, 51, Carlile-13.343; 15. Michael Snider, 6K, Snider-13.469; 16. Danika Jo Parker, 13, Parker-13.528; 17. Thomas Esberg, 8X, Esberg-13.750; 18. Anthony Esberg, 1K, Esberg-14.112; 19. Randi Pankratz, 8, Pankratz-NT.
JORDAN HANNI WELL DRILLING FIRST HEAT: (10 laps) 1. Golobic, 2. Sarale, 3. Liggett, 4. Buckley, 5. Parker. NT.
AMMONIA REFRIGERATION SERVICE SECOND HEAT: (10 laps) 1. Faccinto, 2. Faria, 3. Bernal, 4. Fuson, 5. T.Esberg, 6. Nichols. NT.
WIRELESS 101 THIRD HEAT: (10 laps) 1. Snider, 2. Andreotti, 3. Bender, 4. Bower, 5. Worth, 6. A.Esberg. NT.
FEATURE: (30 laps, With Starting Positions) 1. Shane Golobic (6), 2. Michael Faccinto (5), 3. Ben Worth (1), 4. A.J. Bender (10), 5. Dawson Faria (9), 6. Caden Sarale (14), 7. Jake Hodges (8), 8. Travis Buckley (11), 9. Brody Fuson (15), 10. Danika Jo Parker (16), 11. Thomas Esberg (17), 12. Jake Andreotti (13), 13. Austin Liggett (3), 14. Terry Nichols (12), 15. Blake Bower (4), 16. Michael Snider (7), 17. Ryan Bernal (2).
---
**Pankratz and A.Esberg did not start feature.
FEATURE LAP LEADERS: Laps 1-6 Bernal, Laps 7-30 Golobic.
ROD END SUPPLY HARD CHARGER: Caden Sarale (14th to 6th)
WILWOOD DISC BRAKES LUCKY 13 AWARD: Austin Liggett
NEW USAC WESTERN STATES MIDGET POINTS: 1-A.J. Bender-275, 2-Ben Worth-243, 3-Michael Faccinto-227, 4-Travis Buckley-221, 5-Jake Andreotti-211, 6-Brody Fuson-190, 7-Blake Bower-188, 8-Michael Snider-175, 9-Thomas Esberg-160, 10-Shane Golobic-159.
NEW ELK GROVE FORD MINI SERIES POINTS: 1-Shane Golobic-159, 2-Michael Faccinto-157, 3-A.J. Bender-137, 4-Jake Andreotti-126, 5-Ben Worth-120, 6-Austin Liggett-110, 7-Travis Buckley-104, 8-Caden Sarale-94, 9-Blake Bower-91, 10-Danika Jo Parker-82.
NEW TOP QUALIFIER POINTS: 1-Ben Worth-15, 2-Michael Faccinto-13, 3-Shane Golobic-12, 4-Jake Andreotti-8, 5-Chase Johnson-6, --Mitchel Moles-6, 7-Shannon McQueen-4, --Travis Buckley-4, --Austin Liggett-4, --Blake Bower-4.
NEW PASSING MASTER POINTS: 1-A.J. Bender-20, 2-Thomas Esberg-13, 3-Dankia Jo Parker-11, 4-Brody Fuson-8, --Caden Sarale-8, 6-Michael Snider-7, --Shane Golobic-7, 8-Blake Bower-6, 9-Randi Pankratz-5, --Anthony Esberg-5, --C.J. Sarna-5, --Mitchel Moles-5, --Travis Buckley-5.
NEXT USAC WESTERN STATES MIDGET RACE: May 7 – Placerville Speedway – Placerville, California – "Mother's Day Madness" / "Elk Grove Ford Mini Series Round #3" – Co-Sanctioned with BCRA
---
Article Credit: USAC RACING/LANCE JENNINGS
Submitted By: Dakota Albright
Back to News