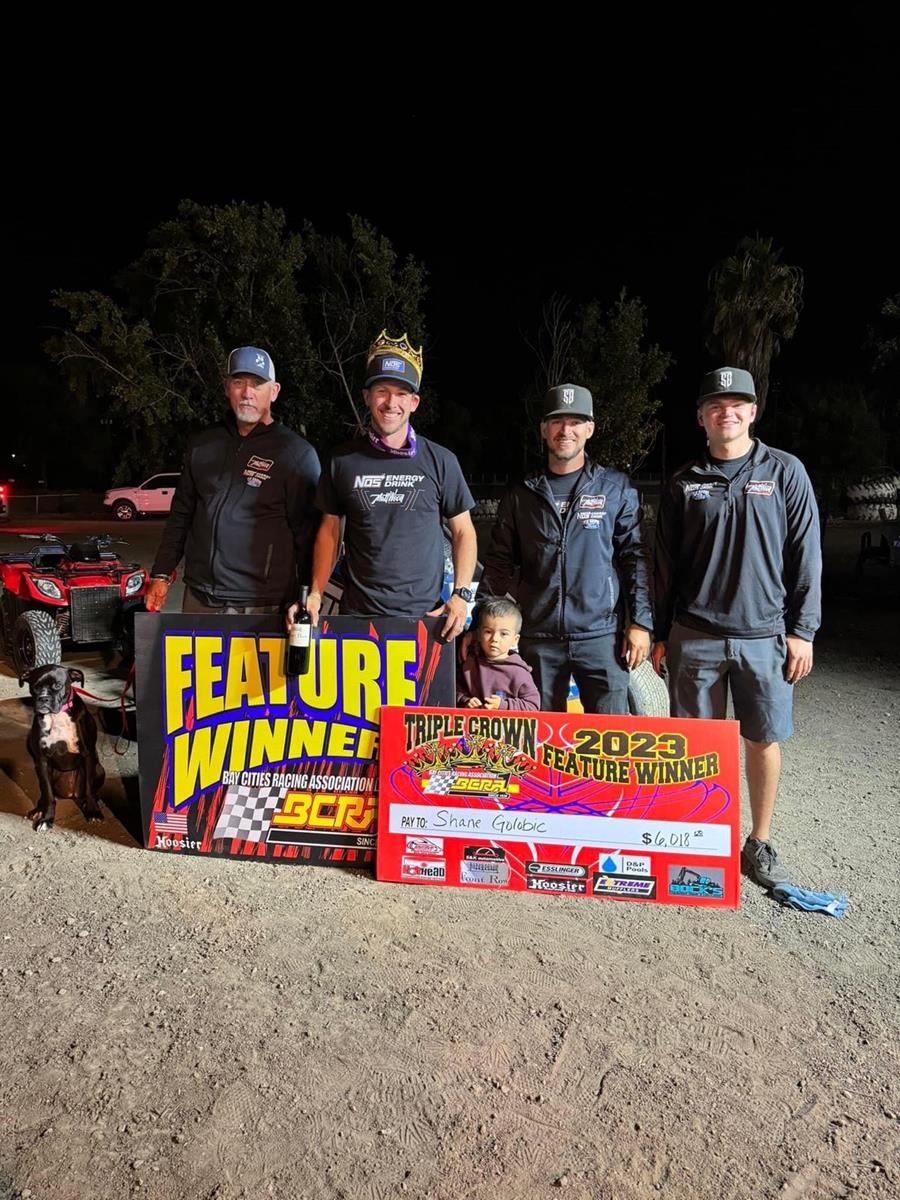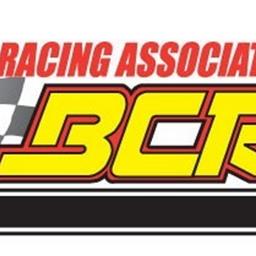 9/28/2023
BCRA - Bay Cities Racing Association
---
Shane Golobic Snags $6,018 BCRA Midgets Triple Crown Finale at Antioch Speedway on Floyd Alvis Tribute Night
Fremont, CA's Shane Golobic claimed an exciting 30-lap Bay Cities Racing Association Midget feature aboard the Matt Wood Racing #17w NOS Energy Drink/Elk Grove Ford Spike/SR-11x Mopar mount on Saturday, September 23rd at the quarter-mile Antioch Speedway.
After setting Fast time earlier, Golobic battled within the Top 5 throughout the first half of the race, swapping positions a bevy of times with a myriad of contenders. After taking command running the high groove on Lap 20, Golobic claimed the $6,018 triumph over Penngrove's Chase Johnson in the JFM #73 XXX/One-Way Chevy, Bakersfield's Cade Lewis in the Dean Alexander #5k Spike/TRD Toyota, polesitter Caden Sarale of Stockton aboard the Garundtsadt Enterprises #14j Spike/SR-11x Mopar and Bakersfield's Brody Fuson in Rusty Carlisle's #51 Spike/SR-11x Mopar.
Pleasant Hill's Ryan Timmons claimed sixth in the Kevin Felkins #35 Stealth/Esslinger. Brentwood's Blake Bower, who had claimed the Wingless Spec Sprint main event earlier in the evening claimed the hard charger award in the Boscacci Racing #9 Spike/EcoTec charging to seventh from 13th. Bower is the reigning two-time Western Midget Racing (WMR) champion and the series' all-time winningest driver and was also a USAC-Western States Midget champion.
16-year-old Bryant Bell of Oakley claimed 7th in the Boscacci Racing #09 Spike/EcoTec. Bell rebounded after having to re-start in the rear after being involved in a mid-race caution that caused his right side nerf to severely rub the right rear tire. The Boscacci crew was able to make a quick repair to get Bell back on-track just in time for the green flag.
Kelseyville's Michael Snider in the Lauren Snider #6k Eagle/Esslinger and 18-year-old David Gasper of Santa Barbara in the JFM #73x XXX/One-Way Chevy rounded out the Top 10 at the checkers.
Despite all having gone one lap down, Oakdale's Danika Jo Faccinto in her #13 Spike/Sala Chevy, Woodland's Peter Paulson in his #32q Stealth/Gaerte and San Jose's Anthony Bruno in the Haugh Motorsports #54 Spike/EcoTec had quite a battle of their own for the 11th to 13th positions in the waning laps.
"Ageless Wonder," Floyd Alvis of San Carlos, the 9-time BCRA Midget champion claimed 14th in his #18 Stealth/Chevy after transferring out of the B-main.
Paulson claimed the 12-lap B-main over Valley Springs' Jacob Williams in the #3 Kevin Felkins Spike/Ecotec, Alvis and Kelseyville's Thomas Esberg in his #8x Stealth/Esslinger to transfer into the 20-car A-main.
It was heartbreak for Oklahaoma's Jason McDougal in the Graunstadt Enterprises #14t Spike/SR-11x Mopar. After starting seventh, McDougal battled into the Top 5, only to end his evening after a multiple-car tangle amongst several lead cars on Lap 26.
Sarale, Fuson and Lewis claimed the eight-lap heat wins.
Golobic set the pace early with a blistering 13.668 lap — a modern Midget track record, leading the 26-car field in time trials. The top five qualifiers were separated by just three tenths of a second.
With his Top-5 run, 19-year-old Sarale claimed the BCRA Midget Triple Crown title, securing a $500 bonus. In his three starts in the mini-series, Sarale claimed a victory, second-place, fourth place, as well as two Heat wins and a fast time award.
Bower, Bell, Snider, Parker-Faccinto, Alvis, Gasper, Bruno, Jake Morgan and Britton Bock claimed second through tenth in the series standings. Boscacci Racing claimed first and second in the owner's points followed by Snider, Faccinto, JFM Motorsports (#73), Felkins, Alvis, Graunstadt, Sarale (#32) and Pete Davis.
Santa Maria's Brandon Wiley, Oakley's Jacob Tuttle, Auburn's Dave Stoltz, Madera's Marvin Mitchell, Delano's "Panda" Terry Nichols, Sacramento's Kevin Gray, former BCRA Midget champion David Prickett of Fresno and Elk Grove's Blaine Craft also competed.
The Triple Crown series finale honored BCRA Hall of Famer and longtime Midget driver Alvis.
Alvis is a nine-time BCRA Midget champion having claimed consecutive titles from 1978 through 1980 and again in 2001 to 2003. He also scored championships in 1987, 2012 and 2013, making him the only driver in BCRA history with championships in four decades.
Alvis compiled dozens of feature event wins, Heat race wins and fast times during his stellar career in Midgets. He claimed wins with and without wings, indoors, outdoors, on dirt and on pavement, spanning several decades.
In one twelve-year span, 1978 through 1989, Alvis recorded 12 top-4 points finishes, with four championships, four seconds, one third and three fourth-place runs. In his career, he has amassed at least 36 Top 5 points finishes and 42 Top 10 points finishes.
Alvis' first-ever BCRA Midget start was at Antioch Speedway on June 21, 1968. Alvis was inducted in the BCRA Hall of Fame in 1994. He is also a member of the National Midget Auto Racing Hall of Fame.
Additional awards included a $100 hard charger gift card sponsored by Extreme Mufflers, $100 long haul award sponsored by HotHead Engine heaters and a $100 fast time award sponsored by Roza Motorsports.
The Triple Crown series was presented by Arata Bros. Racing, Hothead Engine Heaters, Extreme Mufflers, D&P Pools, Esslinger Engineering, West Evans Motorsports, Bock's Equipment Repair & Fabrication, S&K Automotive and Front Row Vineyards.
The increased purse for the finale was in part to Matt Streeter Racing, S.C. Pierovich Farming, TCS Logistics and Galli Trucking. The winner's share is believed to be the highest in modern BCRA history.
In addition to the posted payouts and contingencies, the winning car owner from each round of the Triple Crown series was presented an additional $1,000 courtesy of Arata Bros. Racing and Storck's Garage.
Bay Cities Racing Association is one of the oldest Midget auto racing sanctions in the Country with a storied 80-year history of auto racing in the Western U.S.
For more info on BCRA, visit https://www.bcraracing.com/ and like the organization on Facebook at https://www.facebook.com/BayCitiesRacingAssociation
SUMMARY:
A-Main (30 laps, start): 1. Golobic (2); 2. Johnson (6); 3. Lewis (3); 4. Sarale (1), 5. Fuson (4); 6. Timmons (11); 7. Bower (13); 8. Bell (8); 9. Snider (12); 10. Gasper (10); 11. Paulson (17); 12. Faccinto (9); 13. Bruno (16); 14. Alvis (19); 15. McDougal (7); 16. Craft (14); 17. Wiley (5); 18. Stoltz (15); 19. Williams (18); 20. Esberg (20). NT
B-Main (12, laps, Top 4 Transfer): 1. Paulson; 2. Williams; 3. Alvis; 4. Esberg; 5. Charlie Wright; 6. Mitchell; 7. Prickett
Heat 3: 1. Lewis; 2. Johnson; 3. Faccinto; 4. Timmons; 5. Craft; 6. Bruno; 7. Esberg
Heat 2: 1. Fuson; 2. Wiley; 3. Bell; 4. Gasper; 5. Paulson; 6. Stoltz; 7. Williams; 8. Gray; DNS-Wright
Heat 1: 1. Sarale; 2. Golobic; 3. McDougal; 4. Snider; 5. Bower; 6. Prickett; 7. Alvis; 8. Mitchell; DNS-Nichols
Qualifications: 1. Golobic, 13.668
---
Article Credit: Robert Haugh
Submitted By: Dakota Albright
Article Media
Back to News