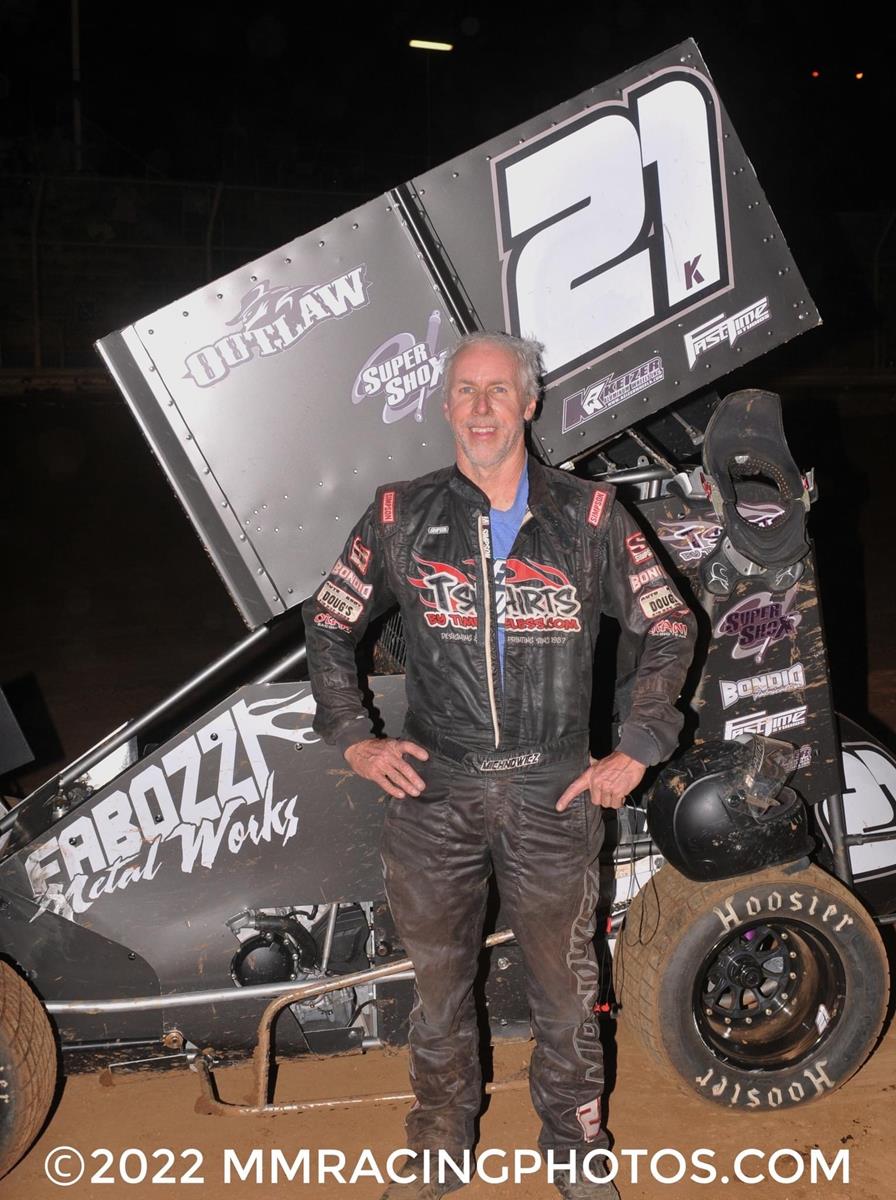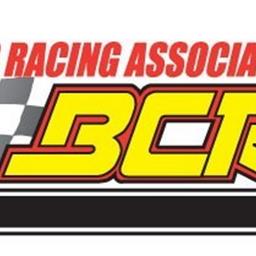 8/28/2022
Bay Cities Racing Association Lightning Sprints
---
Michnowicz Wins Round 3 of BCRA/CLS Civil War at Placerville
Michnowicz Wins Round 3 of BCRA/CLS Civil War at Placerville
Placerville, CA.......Bobby Michnowicz from Oak Hills drove from his fourth place starting position to the lead and never looked back to win round 3 of the co sanctioned BCRA/CLS Lightning Sprint Civil War series main event held at Placerville Speedway Saturday night. Michnowicz a former CRA Sprint Car racer has found a home with the much more affordable California Lighning Sprint series for many years now and it was good to see him return to the winner's circle after a dry spell. It come in a dominating effort that saw him win by close to a half a lap over fellow CLS driver Cody Nigh from Camerillo who had a strong effort to race second. The BCRA's defending champion Dakota Albright from Waterford raced third when the final checkered flag waved.
Polesitter Cody Nigh took the lead at the start of the main event with Jeff Dyer second and Michnowicz third in the early going until second running Dyer spun in turn 1-2 on lap 2. BCRA Points leader Matt Land made contact with Dyer resulting in him flipping and damaging his mount ending his night. Land walked away from the incident, also involved was former 2022 BCRA winner Josef Ferilto from Modesto who also had to pull off with a damaged race car. When racing resumed Nigh held the led with Michnowicz a close second on the banked 1/4 mile red clay oval. Michnowicz got by Nigh to take the lead and progressively pulled away to win by a half lap. Nigh raced second with Albright third. Yesterday's Silver Dollar Speedway winner Connor Speir finished fourth after starting tenth. BCRA's Greg Dennett finished fifth with former BCRA champ Hunter Kinney sixth. Eric Greco Jr. moved up two positions to finish seventh after starting ninth. Defending CLS Champion and thirteenth starter David Gasper raced eighth at the finish. Rookie Will Browne finished ninth a day before his visit to Cory Kruseman's Racing school to learn how to run a 360ci Sprint Car. BCRA regular Harlee Aguilera rounded out the top 10.
21 cars towed to the Placerville speedway to do battle in round 3 of the co sanctioned BCRA/CLS Lightning Sprint Civil War series. Heat races were won by BCRA competitors Matt Land, Greg Dennett and Dakota Albright. BCRA Points leader Matt Land was fastest qualifier with a 12.517 second lap around the quarter mile oval.
Next race for the BCRA Lighning Sprints is at Bakersfield Speedway on September 24th after Merced Speedway on September 3rd was cancelled due to forecasted excessive heat. The California Lightning Sprints will take a couple weeks off until September 10th where they will compete in the Jet Bowl II at Lemoore Raceway.
Summary: 08-27-22 BCRA-CLS Lightning Sprint Civil War - Round 3 - Placerville Speedway
A Feature 1 (20 Laps): 1. 21K-Bobby Michnowicz[4]; 2. 45-Cody Nigh[1]; 3. 35JR-Dakota Albright[5]; 4. 57-Connor Speir[10]; 5. 47-Greg Dennett[3]; 6. 25K-Hunter Kinney[11]; 7. 8G-Eric Greco Jr[9]; 8. 18-David Gasper[13]; 9. 8-Will Browne[14]; 10. 17F-Harlee Aguilera[7]; 11. 3F-Brandon Leedy[12]; 12. 42-Jon Robertson[16]; 13. 27-Nick Chivello[20]; 14. 21J-Jayden Meyer[17]; 15. 11S-Danielle Clauson Sevo[22]; 16. 99-Gage Meyers[15]; 17. 4-Jeff Dyer[2]; 18. 91-Matt Land[6]; 19. 18F-Josef Ferolito[8]; 20. 28K-Kaden Ramos[21]; 21. 17-Scott Kinney[18]
Heat 1 (8 Laps): 1. 91-Matt Land[6]; 2. 21K-Bobby Michnowicz[4]; 3. 57-Connor Speir[3]; 4. 4-Jeff Dyer[8]; 5. 8-Will Browne[5]; 6. 99-Gage Meyers[7]; 7. 21C-Cody Meyer[1]
Heat 2 (8 Laps): 1. 47-Greg Dennett[1]; 2. 45-Cody Nigh[2]; 3. 18F-Josef Ferolito[4]; 4. 25K-Hunter Kinney[3]; 5. 18-David Gasper[5]; 6. 21J-Jayden Meyer[6]
Heat 3 (8 Laps): 1. 35JR-Dakota Albright[5]; 2. 17F-Harlee Aguilera[2]; 3. 8G-Eric Greco Jr[4]; 4. 3F-Brandon Leedy[3]; 5. 42-Jon Robertson[1]; 6. 11S-Danielle Clauson Sevo[6]; 7. 17-Scott Kinney[7]
Qualifying 1: 1. 91-Matt Land, 00:12.517[18]; 2. 18-David Gasper, 00:12.581[14]; 3. 35JR-Dakota Albright, 00:12.594[7]; 4. 8-Will Browne, 00:12.604[11]; 5. 18F-Josef Ferolito, 00:12.612[10]; 6. 8G-Eric Greco Jr, 00:12.644[8]; 7. 21K-Bobby Michnowicz, 00:12.650[5]; 8. 25K-Hunter Kinney, 00:12.665[16]; 9. 3F-Brandon Leedy, 00:12.667[1]; 10. 57-Connor Speir, 00:12.676[20]; 11. 45-Cody Nigh, 00:12.742[3]; 12. 17F-Harlee Aguilera, 00:12.778[17]; 13. 27-Nick Chivello, 00:12.823[19]; 14. 47-Greg Dennett, 00:12.851[9]; 15. 42-Jon Robertson, 00:13.017[13]; 16. 21C-Cody Meyer, 00:13.019[4]; 17. 28K-Kaden Ramos, 00:13.185[2]; 18. 17-Scott Kinney, 00:13.412; 19. 99-Gage Meyers, 00:13.575[15]; 20. 21J-Jayden Meyer, 00:13.725[12]; 21. 11S-Danielle Clauson Sevo, 00:14.473[21]; 22. 4-Jeff Dyer, 00:14.473[6]
---
Article Credit: Mark Sublett
Submitted By: Dakota Albright
Back to News