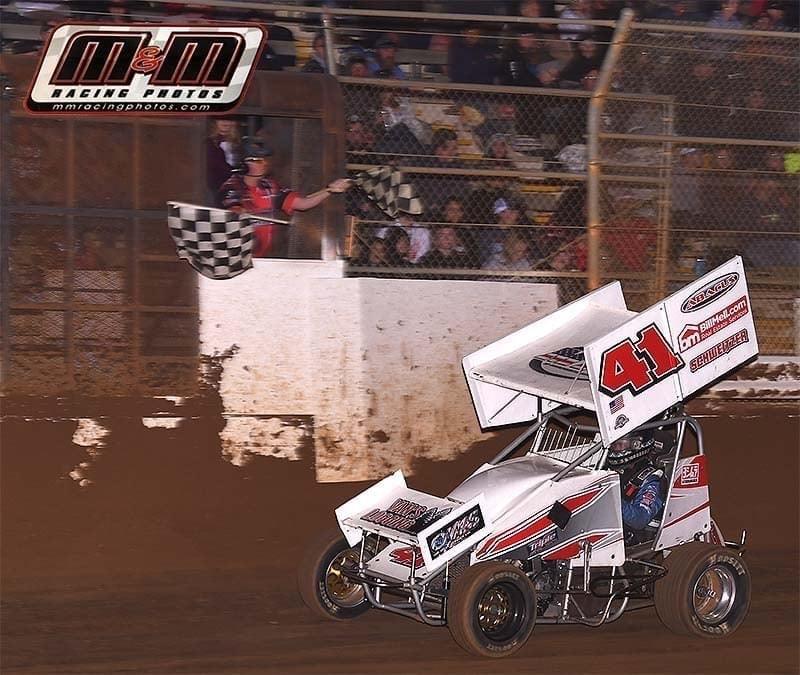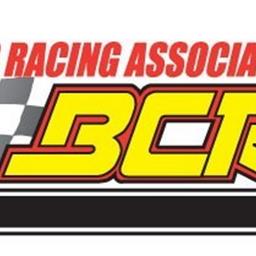 3/28/2022
Bay Cities Racing Association Lightning Sprints
---
AJ BENDER WINS BCRA LIGHTNING SPRINT OPENER
March 26, 2022...Placerville, CA....A.J. Bender from San Diego won the season opening Bay Cities Racing Association Lightning Sprint main event in convincing style Saturday night at Placerville Speedway. Coming from the third starting position Bender made quick work to take the lead at the end of lap one from Orangevale racer Harlee Aguilera and never looked back till the checkered flag waved. Fast timer Matt Land from Wilton raced second and Aguilera came across the finish line third but was disqualified in post race inspection for a rules infraction moving former BCRA Champion Hunter Kinney from Citrus Heights to third.
Aguilera and Land started the 20 lap main event on the front row. At the green flag Aguilera raced to the lead until Gerdes flipped his mount in turn one causing the red stop flag to be thrown. Gerdes was uninjured in the accident. On the restart Aguilera lead into turn one but Bender raced by just before the start/finish line to lead lap one. While Bender lead, Aguilera and Land raced for second and Leedy and H. Kinney were on the move. Leedy caught Aguilera and the two put on a great show racing for third. Leedy eventually won that battle but broke late in the race ending his night. In the closing laps Bender was too much for the field and he won it well. Land raced an impressive second after off road racing the past several years. Aguilera crossed the line third but was too wide in post race inspection. This moved H. Kinney, who started 10th, to 3rd in a solid effort. Kinser raced fourth followed by G. Meyers. Leedy, C. Meyer, Rick Holbrook, Dennett and Gerdes failed to finish the main event.
Fourteen cars towed to the El Dorado County Fairgrounds to do battle on the well prepared 1/4 clay oval promoted by 2021 promoters of the year award winners Scott Russell and Kami Arnold. Land started things off with a 11.906 second lap in qualifying/hot laps. Aguilera made a nice outside pass of race leader Tyler Gerdes from Oakdale to win the first eight lap heat race. Land saw that move and used the same high line to take second a lap later to finish second with Gerdes third after recovering from a late race spin. Danielle Clausen and Greg Dennett had problems and did not finish heat one. The second heat saw a great duel between Brandon Leedy and Cody Meyer the first few laps with Leedy winning out after the race saw a few cautions. Bender raced second with H. Kinney third. C. Meyer ran fourth followed by Tim Kinser, Gage Meyers and Jaden Meyer.
Next race for the BCRA Lightning Sprints is Saturday April 2nd at Merced Speedway for the annual "Wayne Albright Memorial" co sanctioned event with the California Lightning Sprints and is also Round 1 of the five race Civil War series between the two clubs.
Summary: 03-26-22 - BCRA Lightning Sprint - Placerville Speedway
A Feature 1: 1. 41B-AJ Bender[3]; 2. 91-Matt Land[2]; 3. 25K-Hunter Kinney[10]; 4. 37-Tim Kinser[8]; 5. 99-Gage Meyers[13]; 6. 21J-Jayden Meyer[9]; 7. 3F-Brandon Leedy[4]; 8. 21C-Cody Meyer[6]; 9. 5-Rick Holbrook[11]; 10. 47-Greg Dennett[7]; 11. 343-Tyler Gerdes[5]; 12. (DQ) 17F-Harlee Aguilera[1]
Heat 1: 1. 17F-Harlee Aguilera[2]; 2. 91-Matt Land[4]; 3. 343-Tyler Gerdes[1]; 4. 11S-Danielle Clausen[5]; 5. 47-Greg Dennett[3]
Heat 2: 1. 3F-Brandon Leedy[4]; 2. 41B-AJ Bender[5]; 3. 25K-Hunter Kinney[6]; 4. 21C-Cody Meyer[2]; 5. 37-Tim Kinser[3]; 6. 99-Gage Meyers[7]; 7. 21J-Jayden Meyer[1]
Qualifying 1: 1. 91-Matt Land[6]; 2. 41B-AJ Bender[4]; 3. 47-Greg Dennett[3]; 4. 3F-Brandon Leedy[5]; 5. 17F-Harlee Aguilera[2]; 6. 99-Gage Meyers[8]; 7. 343-Tyler Gerdes[9]; 8. 37-Tim Kinser[7]; 9. 5-Rick Holbrook[12]; 10. 21C-Cody Meyer[14]; 11. 9-Scott Kinney[13]; 12. 21J-Jayden Meyer[11]; 13. 11S-Danielle Clausen[1]; 14. (DNF) 25K-Hunter Kinney[10]
---
Article Credit: Mark Sublett
Submitted By: Dakota Albright
Back to News