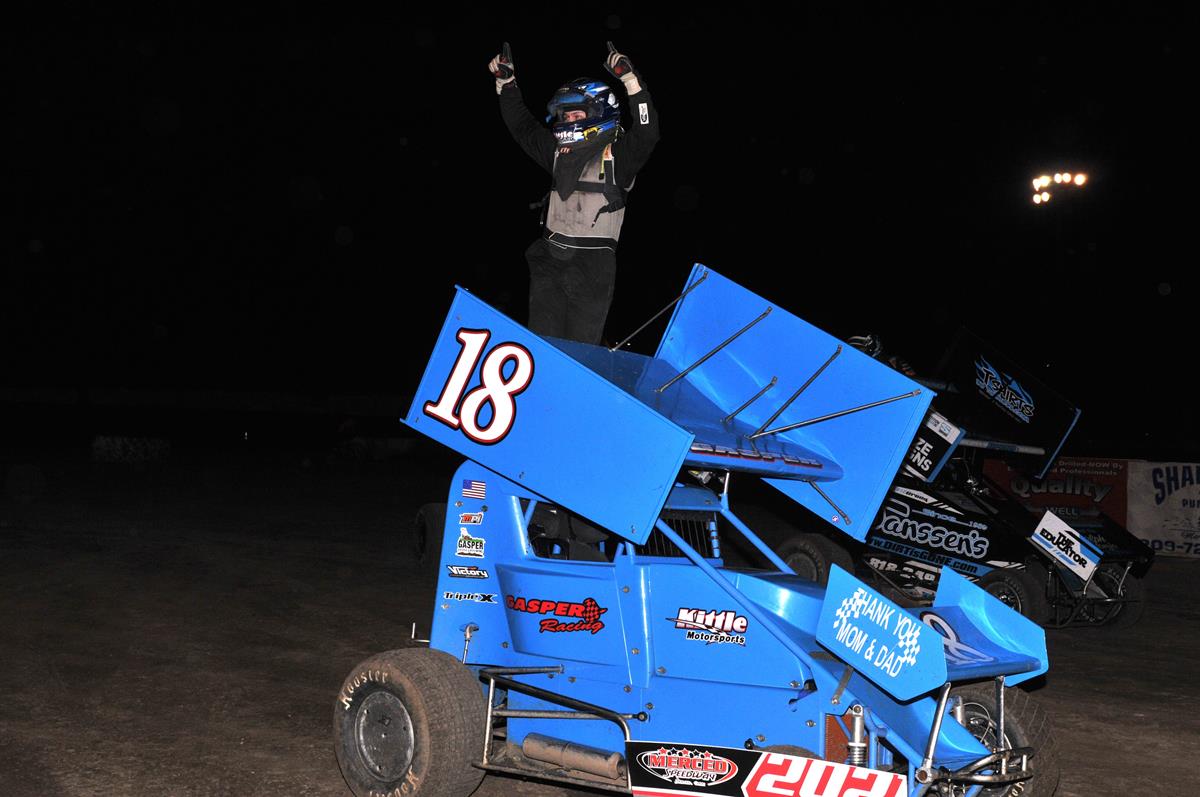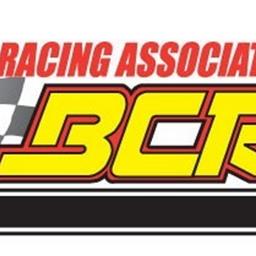 8/10/2021
BCRA - Bay Cities Racing Association
---
GASPER WINS FIRST BCRA/CLS LIGHTNING SPRINT MAIN
08-07-21.....Merced, CA...David Gasper from Santa Barbra won his first Bay Cities Racing Association/California Lightning Sprint co-sanctioned main event Saturday night during the inaugural "Kevin Triplett Memorial" run at Merced Speedway. Gasper held off a late race challenge from Eric Greco to take the win and was quick to thank Kittle Motorsports, Gasper Racing, Valley Precision Products and Mom and Dad who all helped get him to the winners circle in only his eighth start in a lightning sprint. The night was held in memory of longtime motorsports journalist Kevin Triplett who passed away on May 5th after a months long battle with Covid-19. Mr. Triplett was inducted in the BCRA Hall of Fame on this night and was remembered fondly throughout the evening.
At the start of the 25 lap main event polesitter Dominic Del Monte, David Gasper and James Turnbull II raced three wide in turn one and two with Turnbull II taking the early lead as they exited turn four on lap one. Gasper and Del Monte raced side by side another lap until Gasper took it while Eric Greco was moving up to fourth and Brandon Leedy moved up to race fifth in the early going. At the front of the field second running Gasper was all over leader Turnbull II as the top four raced under a blanket for several laps much to the fans and this writers enjoyment. Gasper used an outside move exiting turn two on lap eight to take over the top spot and lead lap nine. Greco used a similar move on second running Turnbull II to take the runner-up spot two laps later while encountering lapped traffic. Turnbull's hope for a win came to an end when his mount broke going down the back straight bring out the yellow on lap 14. In the final laps Gasper and Greco traded the lead late in the going in an impressive duel but Gasper was the best on this night taking home his first win in a lightning sprint. Greco crossed the line second but was put back one spot for a restart infraction moving Del Monte to the runner up spot. Leedy raced fourth with thirteenth starting Hunter Kinney rounding out the top five.
Heat races were won by Greco and Scott Kinney. BCRA Lightning sprint driver Steve Roza and Randi Pankratz represented the BCRA and USAC Midget's in doing checkered flag laps in memory of Triplett. Multi time BCRA Lightning sprint Champion Scott Kinney was slated to start second in the main but had mechanical issues forcing him out of the main. The next race on the BCRA Lightning Sprint schedule is August 28th at Placerville Speedway.
SUMMARY:
08-07-21 - BCRA Lightning Sprints - "Kevin Triplett Memorial" - Merced Speedway
A Feature 1 (25 Laps): 1. 18-David Gasper[4]; 2. 37-Dominic Del Monte[1]; 3. 8G-Eric Greco Jr[3]; 4. 3F-Brandon Leedy[5]; 5. 25K-Hunter Kinney[13]; 6. 42-Jon Robertson[8]; 7. 13-Danika Parker[10]; 8. 61-Don Hart[15]; 9. 18F-Josef Ferolite[11]; 10. 03-Pat Kelly[12]; 11. 2J-James Turnbull[6]; 12. 14-Steve Roza[7]; 13. 17F-Terry Bergstrom[14]; 14. (DNS) 25-Scott Kinney; 15. (DNS) 13X-Aiden Lange
Heat 1 (8 Laps): 1. 8G-Eric Greco Jr[4]; 2. 18-David Gasper[6]; 3. 14-Steve Roza[1]; 4. 2J-James Turnbull[7]; 5. 13-Danika Parker[2]; 6. 18F-Josef Ferolite[3]; 7. 03-Pat Kelly[8]; 8. (DNS) 21K-Bobby Michnowicz
Heat 2 (8 Laps): 1. 25-Scott Kinney[2]; 2. 37-Dominic Del Monte[4]; 3. 42-Jon Robertson[1]; 4. 3F-Brandon Leedy[5]; 5. 13X-Aiden Lange[6]; 6. 61-Don Hart[7]; 7. 25K-Hunter Kinney[3]; 8. 17F-Terry Bergstrom[8]
Qualifying 1: 1. 18-David Gasper, 00:12.567[4]; 2. 13X-Aiden Lange, 00:12.664[15]; 3. 21K-Bobby Michnowicz, 00:12.700[9]; 4. 3F-Brandon Leedy, 00:12.714[5]; 5. 8G-Eric Greco Jr, 00:12.761[16]; 6. 37-Dominic Del Monte, 00:12.846[3]; 7. 18F-Josef Ferolite, 00:12.920[14]; 8. 25K-Hunter Kinney, 00:12.924[7]; 9. 13-Danika Parker, 00:12.928[2]; 10. 25-Scott Kinney, 00:13.019[17]; 11. 14-Steve Roza, 00:13.069[10]; 12. 42-Jon Robertson, 00:13.096[12]; 13. 2J-James Turnbull, 00:13.112[11]; 14. 61-Don Hart, 00:13.439[6]; 15. 03-Pat Kelly, 00:13.472[1]; 16. (DNS) 17F-Terry Bergstrom, 00:13.472; 17. (DNS) 47-Greg Dennett, 00:13.472
---
Article Credit: Mark Sublett
Submitted By: Dakota Albright
Article Media
Back to News