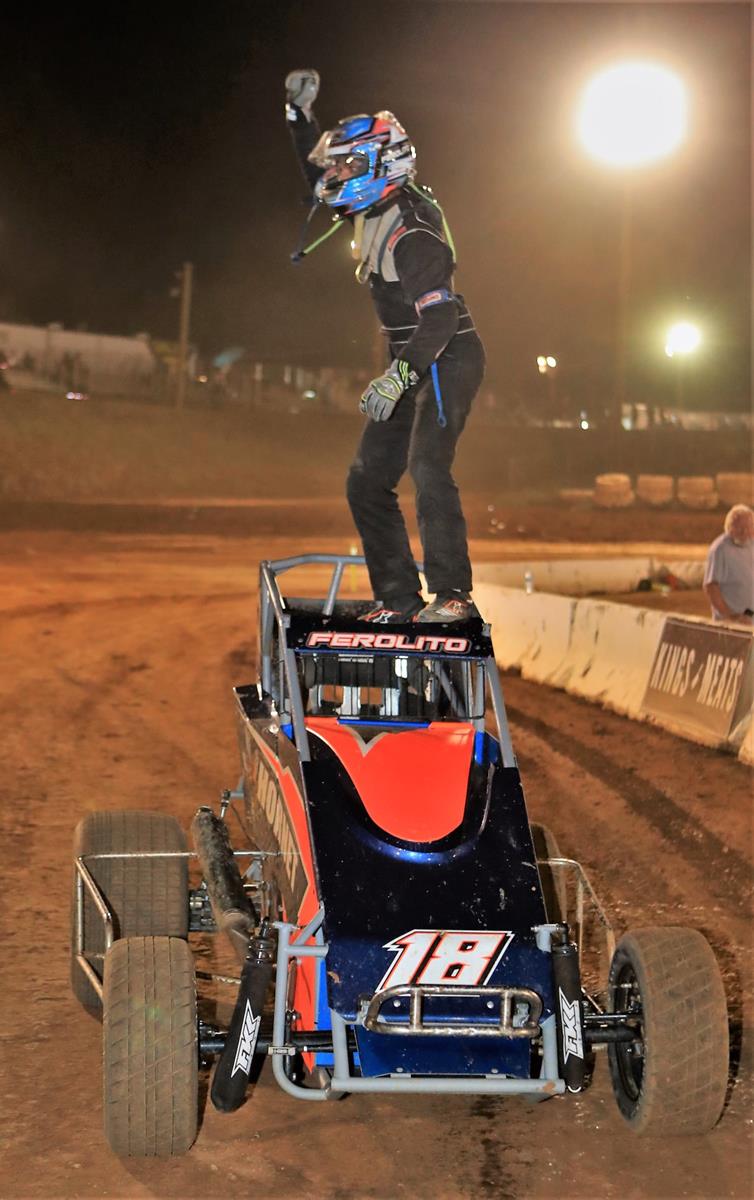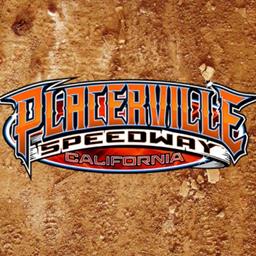 7/13/2021
Placerville Speedway
---
Josef Ferolito claims victory without the wings with BCRA Lightning Sprints
Josef Ferolito snags first career BCRA Lightning Sprint victory at Placerville Speedway
By Gary Thomas
Placerville, CA…After starting 10th in the feature Josef Ferolito fought his way forward and charged away at the end to scoop up his first career BCRA Lightning Sprint triumph at Placerville Speedway's "Gold Dust Fever" this past Saturday.
The BCRA Lightning Sprints ran without the wings last weekend as part of "Wingless Mania" at the El Dorado County Fairgrounds. Ferolito was exceedingly happy after climbing from his car in victory lane. "This is a great feeling to finally get a win with the BCRA Lightning Sprints," he commented to infield reporter PJ Petersen. "We've had some tough luck at times so to do this here tonight means a lot. I have to thank everyone that supports this team for getting us up here."
The main event began with pole sitter Craig Holsted leading the way up front as drivers raced for position behind him. Scott Kinney, Hunter Kinney, Cody Meyer, Jeff Griffin and others raced high and low in their pursuit of the leader. The complexion of the main event changed around lap eight though when contact between the Kinney's entering turn one brought things to a halt. Both drivers got upside down but luckily emerged okay.
On the restart Holsted held command over Ferolito, who now found himself in the second position. Shortly after going back green however, Holsted slowed and pulled into the infield. Ferolito inherited the top-spot and rocketed away from the pack to accept the Ron Stahl checkered flag. It was sweet redemption for Ferolito, who suffered a flat tire while out front at the previous BCRA Lightning Sprint event in Placerville.
Terry Bergstrom battled back from some adversity early on to finish second, followed by Danika Jo Parker, Cody Meyer and Jeff Griffin in the top-five. Completing the top-10 were Dakota Albright, Craig Holsted, Tony Fedota, Hunter Kinney and Scott Kinney. Scott Kinney and Terry Bergstrom captured the night's heat races, while Dakota Albright opened the evening by setting fast time. The Waterford, CA driver toured the quarter-mile in 13.363 seconds to earn the honor.
Next up for the BCRA Lightning Sprints will be a trip down to Stockton for a night of exciting competition at the Delta Speedway.
………………….
BCRA Lightning Sprints Results – Placervile Speedway Gold Dust Fever
A Feature 20 Laps
18-Josef Ferolito[10]; 2. 17F-Terry Bergstrom[3]; 3. 13-Danika Jo Parker[8]; 4. 21C-Cody Meyer[5]; 5. 50-Jeff Griffin[2]; 6. 35JR-Dakota Albright[6]; 7. 9-Craig Holsted[1]; 8. 21F-Tony Fedota[12]; 9. 25K-Hunter Kinney[7]; 10. 25-Scott Kinney[4]; 11. 3F-Brandon Leedy[9]; 12. 21J-Jayden Meyer[11]
Heat 1 8 Laps
25-Scott Kinney[4]; 2. 21C-Cody Meyer[1]; 3. 25K-Hunter Kinney[3]; 4. 35JR-Dakota Albright[6]; 5. 3F-Brandon Leedy[5]; 6. 47-Greg Dennett[2]
Heat 2 8 Laps
17F-Terry Bergstrom[2]; 2. 50-Jeff Griffin[4]; 3. 9-Craig Holsted[6]; 4. 13-Danika Jo Parker[3]; 5. 21J-Jayden Meyer[7]; 6. 18-Josef Ferolito[1]; 7. 21F-Tony Fedota[5]
Qualifying
35JR-Dakota Albright, 00:13.363[5]; 2. 9-Craig Holsted, 00:13.363[6]; 3. 3F-Brandon Leedy, 00:13.368[7]; 4. 13-Danika Jo Parker, 00:13.387[13]; 5. 25-Scott Kinney, 00:13.415[9]; 6. 50-Jeff Griffin, 00:13.430[10]; 7. 25K-Hunter Kinney, 00:13.613[4]; 8. 18-Josef Ferolito, 00:13.638[11]; 9. 47-Greg Dennett, 00:13.755[2]; 10. 17F-Terry Bergstrom, 00:13.821[12]; 11. 21C-Cody Meyer, 00:13.994[8]; 12. 21F-Tony Fedota, 00:14.280[3]; 13. 21J-Jayden Meyer, 00:14.495[1]
---
Article Credit: Gary Thomas
Submitted By: Gary Thomas
Back to News