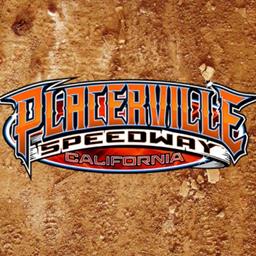 6/7/2021
Placerville Speedway
---
Terry Bergstrom claims BCRA Lightning Sprint win at Placerville
Terry Bergstrom races to victory in Placerville with the BCRA Lightning Sprints
Placerville, CA – June 5, 2021…After starting from sixth on the grid Placerville's Terry Bergstrom battled his way to the front and led the final nine-laps in the feature to record victory with the BCRA Lightning Sprints at Placerville Speedway on Saturday.
Bergstrom piloted the Savage Racing No. 17F machine to the win and also took home a $250 meat bundle thanks to the evening's sponsor Kings Meats.
"My team had this car dialed in all night long and I'm pretty pumped to be standing here in victory lane," Bergstrom commented on the front stretch. "We were really fast in the heat race and that carried over into the feature. I want to thank everybody that supports this 17F car and makes it possible. It's nice to go home with the Kings Meats bundle as well."
The 20-lap main event came to the line with Dakota Albright and Josef Ferolito sharing the front row. When flagman Ron Stahl waved the Kings Meats green flag it was Ferolito who blasted into the lead. Terry Bergstrom eventually sliced his way past Albright to take second as Ferolito set a healthy pace up front.
A caution on lap 11 slowed things down and during it, the complexion of the race changed completely. Leader Ferolito made the hard, right hand turn up the exit ramp back into the pits, relegating the top-spot with a reported flat tire. When things got back underway Bergstrom pulled away from the pack, until the red lights came on for Danika'jo Parker, who got upside down in turn one. She emerged from the car okay and restarted the race.
Bergstrom kicked-it into overdrive the final five laps and scooted away to accept the checkered flag over Albright, Cody Meyer, Scott Kinney and Greg Dennett in the top-five. Rounding out the field were Brandon Leedy, Parker, Jayden Meyer and Ferolito.
Heat race wins were pocketed by Terry Bergstrom and Greg Dennett. Hunter Kinney began the night by setting fast time by touring the quarter-mile in 12.496 seconds.
Next up for the BCRA Lightning Sprints will be an event at the Marysville Raceway on Saturday June 26th.
……
BCRA Lightning Sprints Results – Placerville Speedway June 5th
A Feature 20 Laps:
17F-Terry Bergstrom[6]; 2. 35JR-Dakota Albright[1]; 3. 21C-Cody Meyer[3]; 4. 25-Scott Kinney[8]; 5. 47-Greg Dennett[5]; 6. 3F-Brandon Leedy[7]; 7. 13-Danika Jo Parker[4]; 8. 21J-Jayden Meyer[9]; 9. 18-Josef Ferolite[2]
Heat 1 8 Laps:
17F-Terry Bergstrom[2]; 2. 13-Danika Jo Parker[4]; 3. 3F-Brandon Leedy[3]; 4. 25-Scott Kinney[5]; 5. 21J-Jayden Meyer[1]; 6. 25K-Hunter Kinney[6]
Heat 2 8 Laps:
47-Greg Dennett[2]; 2. 21C-Cody Meyer[1]; 3. 18-Josef Ferolite[3]; 4. 35JR-Dakota Albright[5]; 5. 9-Craig Holsted[4]
Qualifying:
25K-Hunter Kinney, 00:12.496[9]; 2. 35JR-Dakota Albright, 00:12.557[1]; 3. 25-Scott Kinney, 00:12.775[3]; 4. 9-Craig Holsted, 00:12.779[7]; 5. 13-Danika Jo Parker, 00:12.842[8]; 6. 18-Josef Ferolite, 00:12.973[2]; 7. 3F-Brandon Leedy, 00:13.018[4]; 8. 47-Greg Dennett, 00:13.029[5]; 9. 17F-Terry Bergstrom, 00:13.063[11]; 10. 21C-Cody Meyer, 00:13.510[10]; 11. 21J-Jayden Meyer, 00:14.091[6]
Image courtesy of Tim Holland
---
Article Credit: Gary Thomas
Submitted By: Gary Thomas
Back to News